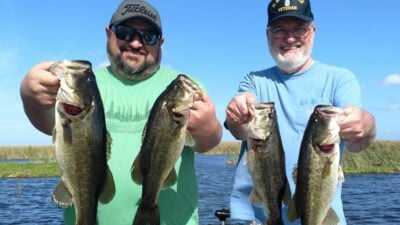 Have you had the chance to experience Lake Okeechobee Bass Fishing? Lake Okeechobee is a world-renown lake for catching trophy largemouth bass. Now is the time to explore what Lake Okeechobee has to offer. The bass are spawning and big females are biting. Hop on board for a Two Boat Okeechobee Fishing Charter while traveling to Florida on your next family vacation.
In order to find the success you are looking for, you have to adventure out with one of our local experts. Hours, Days, and Years on the water have allowed for the ultimate experience for those wanting to explore. They will get you on the bass and hopefully you get to land that big bass you are after. Each of our experts will give you a unique view of what Lake Okeechobee is all about.
Here is your Lake Okeechobee Bass Fishing Update: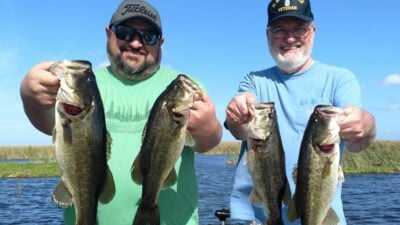 Captain Brian Brown had the pleasure of fishing with James and his son Jeremiah. There is no better feeling for a Captain than showing a family a great time on the water. Captain Brian said "it was a blast to fish with this father-son duo, which made for an amazing time bass fishing in their quick 6-hour fishing trip."
James and Jeremiah adventured out of Slims Fish Camp on the Southeast corner of Lake Okeechobee. It is a beautiful location to travel out of. They grabbed several dozen wild caught shiners and off they went. It was supposed to be a 4-hour fishing trip but the bite was so good that they extended it to 6-hours.
James and Jeremiah learned a lot about bass fishing on this fishing charter. They caught several quality largemouth bass weighing up to 4 pounds. The big bass are on the move into the shallows especially when you see all these males moving in. This father-son duo will be back for more action on their next vacation to Florida. Captain Brian is looking forward to show them more of what Lake Okeechobee has to offer!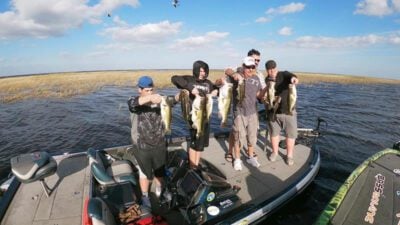 It was not long after this fishing trip that Captain Mark Rose and Captain George Mrozinski explored Lake Okeechobee. They were fishing a two boat fishing charter out of Clewiston, FL. Captain George had the pleasure of fishing with Dave and his sons Lucas and Christian. While traveling from Toronto with their friends, they had to get out on the water. Lake Okeechobee was the perfect match for them while Clewiston Bass Fishing.
Captain Mark Rose had the pleasure of fishing with his repeat client Enzo and his friend Aldo. They were also traveling from Canada and wanted to get out Lake Okeechobee Bass Fishing again. It was a quick 8-hour fishing trip with all the action. This family and friends did not know what to expect and got everything they could have imagined.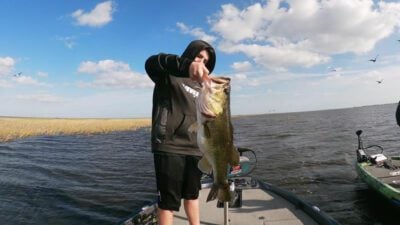 On Captain George's boat, Christian caught most of the bass. Lucas came in strong with the biggest bass on this boat weighing 6.41 pounds. That wasn't the biggest bass of the trip but one amazing catch. On Captain Mark's boat, Enzo and Aldo caught over 40 largemouth bass with a Trophy Bass added on. Enzo landed a 9-pound giant largemouth on this fishing trip. It was 24 inches long and 18 inches round. You truly can't beat the bass fishing on Lake Okeechobee this time of year.
Captain George and Mark are looking forward to seeing this family and friends on their next Florida vacation!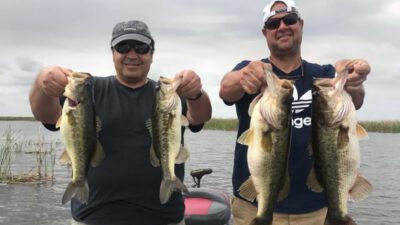 It was not long after this awesome fishing trip that Captain Brian was back on the water. He had the pleasure of fishing with Brooke. She was traveling across the country checking out different states. While she was visiting Florida, Lake Okeechobee Bass Fishing was a must. Captain Brian had a fun morning with Brooke who was originally from Ohio.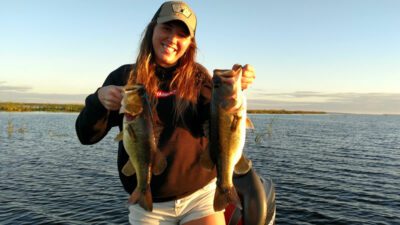 The cookie cutter males are present on Lake Okeechobee. Brooke landed a solid number of bass on this fish with no giants to the boat. Along with catching largemouth, she also caught a couple seagulls that wanted her live bait. Brooke is planning another trip soon and bringing her brother back to experience Lake Okeechobee. Sometimes you don't have to catch a big bass to have a memorable experience on the water.
Captain Brian is looking forward to fishing with Brooke again in the near future!
The weather was great and the lake is looking amazing. Things are coming together for a strong season and next couple of months. Get your trips booked now so that you have the chance to experience Lake Okeechobee for yourself. Lake Okeechobee bass fishing is only going to get better. We look forward to seeing you on the water next time for a fishing adventure of a lifetime!
Come Visit Florida and Catch Yours Today while on a Stuart Florida Freshwater Fishing Charter……
If you enjoyed this post about Okeechobee Fishing, you might also enjoy this fishing report from the same area.
Don't forget to follow us on Facebook, YouTube, Twitter and Instagram.