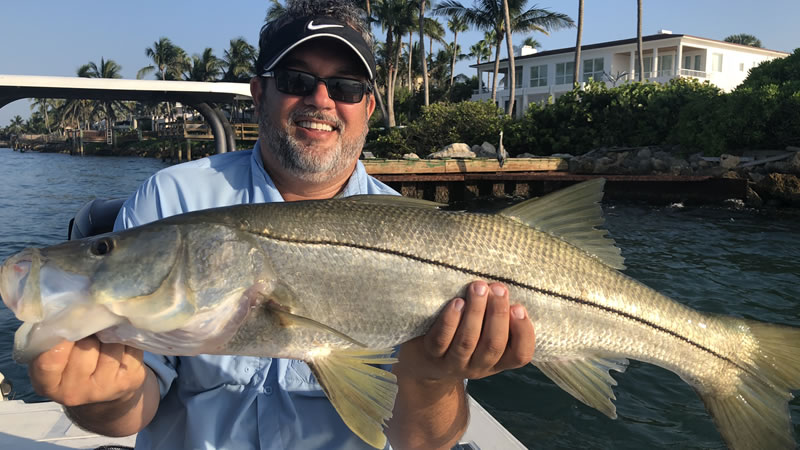 Have you wondered which Florida destination can provide you an ultimate outdoor experience? Stuart, FL is known for its incredible Florida Fishing makes it a TOP destination for travelers. This hidden corner on the East coast of Florida provides ample opportunities to soak up the sun and enjoy some time with the family. Enjoy this Stuart Florida Fishing Report to help guide you on your next fishing experience while visiting the Treasure Coast.
History:
Stuart, FL was founded and settled in 1870 and finally chartered in 1925. Stuart was named after an early settler that stimulated pineapple farming and the FEC railroad system. The vast history of this gorgeous destination provides another reason to come explore. Each corner of Stuart can uncover something unique and new. You can learn more about Stuart's vast history HERE!
Destination:
Stuart, FL is located on Florida's beautiful east coast in Martin County. It borders the St. Lucie River and Indian River. You can enjoy endless miles of coastline and natural habitat for a true fishing paradise. Spend a day on the beach, explore downtown for great food during the day and night-life in the evening, or hop on board a fishing vessel to explore the backwaters, lakes or open ocean surrounding Stuart.
The weather is fantastic all year round with an average temperature ranging from 72-80 degrees. You truly can't beat the weather here in Stuart, FL. Escape the cold winters or enjoy a hot summer down here along the Treasure Coast. One of the best ways to do that is on a fishing charter.
Stuart, FL Fishing:
When you are determining which outdoor activity to partake in while visiting Martin County, take advantage of the beautiful weather and get on the water. Florida fishing whether inshore, offshore or bass fishing is the BEST way to experience Stuart. Take a break from the sandy beaches and hop aboard our local expert fishing vessel for a trip of a lifetime
Stuart may be known for its incredible offshore fishing especially for Sailfish but inshore fishing can be a much better option. If you are looking for a fun activity for the whole family, make sure you check out inshore fishing for a variety of local species. Every month of the year will bring about different opportunities to hunt down that fish you have always dreamed of.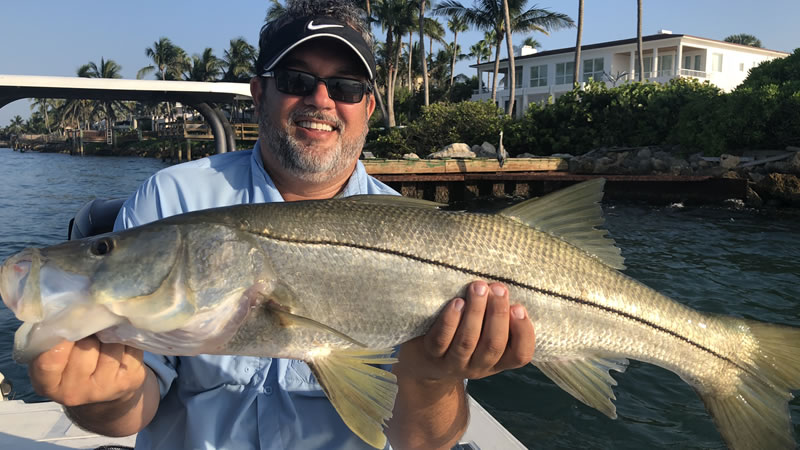 During colder months of the year, finding structure is the most important. Snook, which is the most popular species to catch, can be caught in the backwaters of St Lucie and Indian River. They migrate back into the canals and river systems hugging to mangrove lines, bridges, and many other structures. Getting aboard with a local expert will cut down your time and get you on bigger and better species more time efficient.
You can either use live bait including shrimp, mullet, pinfish, grunts, etc for inshore species. As well as the most preferred method, you can use dead baits such as mullet, bonito, and squid. Visit your local bait and tackle stores to determine which avenue and bait option is going to be the best choice. Most shops have up-to-date information on how the resources are working in your destination.
One of the best structures known to hold excellent inshore fishing is bridges. The Ten-Cent Bridge during the right tides and time of day can provide some of the most incredible inshore fishing in the state. Hold on while you fight the biggest Snook of your life. Along with the might Snook, you can catch Tarpon, Jack Crevalle, Mackerel, Snapper, and Grouper. The action is consistent all year round with peak seasons for species including Snook and Tarpon.
Our Local Expert and Professional Captain Hunter Weston has spent many years of his life determining, learning and fishing this incredible fishing destination. If you are looking for the ULTIMATE inshore fishing experience, make sure you get on his clean fishing vessel into the backwaters of Stuart, FL.
Current Inshore Fishing Report from Captain Hunter out of Stuart, FL:
"As we experience what we Floridians deem as cold weather, the Snook have been on and off for the time being. With that being said, when we have
had a couple of warm days in a row the bite is extremely good.
Look for docks with good current movement and a little bit of tinted water. In this cold, they seem to like a little stain in the water, which in turn helps that reaction bite on artificial baits.
Some of the best baits consist of Yo-Zuri minnows or crank baits along with MirrOlure topwater plugs. You can also use DOA TerrorEyz or Shrimp that sit on the bottom where the big Snook are waiting to feed. Redfish up north by the power plant have been consistent and seemingly chewing pretty good on these mid 60's days we've been blessed with recently"
If you are after that deep-sea creature in Stuart, FL, head a short distance offshore to get into cooler waters for much larger fish. Stuart, after all, is the "Sailfish Capital of the World." Fly a kite, set the drift, troll in different depths, and explore all that Stuart has to offer on an Offshore Fishing Charter. Stuart is a great destination for offshore fishing because of the proximity of the Gulf Stream. This stream travels from the North to the South, bringing major pelagic and billfish to the warm waters of Stuart, FL. If you are looking for much larger fish, an offshore fishing charter would be the best bet!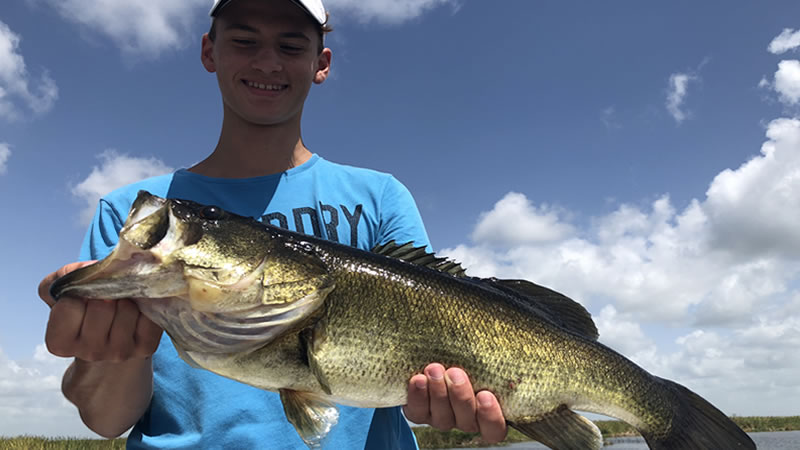 When you are traveling to Stuart, most will overlook one an incredible experience that can change your life. Some of the world's best bass fishing is within a short drive. Lake Okeechobee Bass Fishing can provide your family that freshwater fishing experience that you are after. Hop on board with Captain Hunter as well for an Okeechobee City fishing adventure.
Now is a fantastic time to come explore what Lake Okeechobee has to offer. Once the water temperatures get right, the big female bass looks to spawn.
Current Lake Okeechobee Bass Fishing Report with Captain Hunter Weston
"Right now on great Lake O, we are getting skinnier and skinnier. Water levels are dropping making for great opportunities to cash in on some bigger fish. Fish that have been back in vegetation and in that normal 2-3′ water range are starting to move out towards main lake points and bays.
When you are adventuring out on the water, make sure to keep an eye out for clean water. Keep your eyes open for moving water and current. Observe paths and routes from the main lake to backwaters that can help you locate more fish. As the water continues to drop, the bass will have no other option but to find deeper water.
Shad are thick around outside grass and have good schools of bass hitting top waters, lipless crankbaits and spinner baits. Live wild caught shiners may be the most effective but artificial baits can provide you with a fun and rewarding experience. "
Lake Okeechobee can fulfill your freshwater dream as it is one of the best bass fishing lakes in Florida. Cast out artificial lures or live bait to land that TROPHY largemouth bass you have been hoping for. All year round, Lake Okeechobee can provide you with a fishing experience like no other. We look forward to seeing you on the water next time.
Our Local Expert: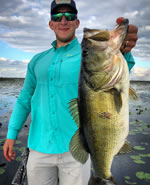 "Hello my name is Captain Hunter Weston. I'm 27 years old from Stuart, FL. I'm a second generation native Floridian, born in Plantation, FL. I've been fishing since before I could remember; my father always tells a story of my first bass on my own was at two years old. How much of that is true, I'm not sure.
My earliest memories of fishing are from when I was four. I used to fish local tournaments with my father in the Everglades and on Lake Okeechobee. Since then I haven't known life without bass fishing. I grew up primarily fishing Lake Okeechobee around some of the best anglers known to the sport. I always loved the idea of being a professional guide and giving people the opportunity to see the beauty and experiences fishing has to offer. Growing up with a father that guided professional gave me the tools and knowledge to feel confident in being successful at such a rewarding career.
At the age of 21, I joined the United States Coast Guard. I've been on active duty for the past six years. I've taken many lessons and fundamentals from my time served and have applied them to many different aspects of my life in order to make myself a well-rounded professional mariner and human being.
What you can experience with Captain Hunter:
My passion for the sport of fishing goes beyond a hobby, my wife likes to say it's more of an obsession. If I'm not fishing, I'm thinking about fishing, my mind never stops. From fishing new water and finding the fish to getting them to bite and react to different baits. In this industry, if you're not adapting and figuring out the fish on a daily basis, you'll get left behind.
It's a beautiful place that can humble you extremely fast. My love for bass fishing and Lake Okeechobee are beyond my power to express in words.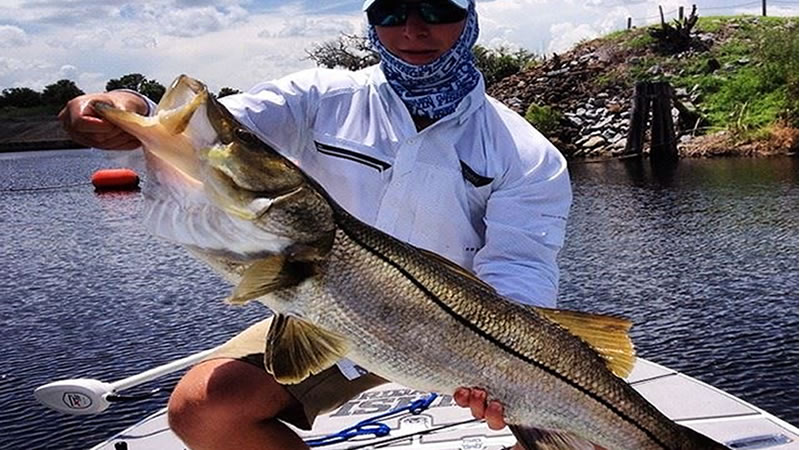 My expertise does not end at bass fishing; I've been inshore fishing in Stuart since I was twelve. I remember catching an over-slot Snook for the first time and having a whole new world open up to me. Drag screaming, acrobatic maneuvers, aggressive head shakes, it was an experience that got my attention as much as bass fishing. Since then I have pursued inshore species such as tarpon, redfish, permit, jack, and trout. One thing I love about saltwater is the chance to catch so many different species in one trip.
Another adventure I love to share with people is the pursuit of the beautiful peacock bass. The peacock bass was introduced here in South Florida in the 1980's. Originally from the Amazon regions of South America, this fish is as ferocious as it is colorful. Sometimes putting up a fight you weren't bargaining for.
As a matter of fact, from Lake Ida to Miami, I've fished for peacocks since I was 10. A very different experience that is undoubtedly unrivaled. Where ever you want to explore, I am your local expert. My goal is to provide you with the best Florida Fishing experience possible. I look forward to sharing experiences and memories with incredible people."
Finally, Stuart is the perfect location for the ultimate Florida Fishing Experience. If you have never been to Stuart, FL, it is a must-see destination here in Florida with all things considered. We look forward to having the opportunity to explore what this destination has to offer with you. Hop on board with our local experts and they will help you experience a fishing adventure of a lifetime. Don't forget to bring the family along with you!!
Your Adventure Starts Today while Visiting Florida.
If you enjoyed this post about Florida Fishing, you might also enjoy our Fishing Blogs.
Don't forget to follow us on Facebook, YouTube, Twitter and Instagram.