Are you looking for an incredible bass fishing experience near Stuart, FL? Are you wondering how Lake Okeechobee Bass Fishing has been? Well, we have great news. Lake Okeechobee is fishing incredibly. Great weather has brought in some big bass looking to spawn. The bass fishing should only get better from here. Now is the time to experience Incredible Lake Okeechobee Fishing is one of the best experiences you can encounter while visiting Florida on a Stuart Bass Fishing Charter!
Our local experts have spent hours and days of their time determining how to fish Lake Okeechobee. When you come out bass fishing with our experts, they will work hard to make your dreams a reality. Largemouth bass are in spawning mood as of current. Big bass are looking to feed before spawning. Now is a great time to come catch that trophy bass you are in search for.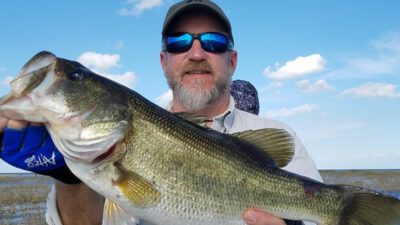 Captain Mark Shepard had the pleasure of fishing with long-time repeat client Steve and Taylor. Taylor has been fishing with Captain Mark since he was 10-years old. Now, Taylor is fishing on the FSU Bass Fishing Team. When Steve and Taylor explore Lake Okeechobee Bass Fishing they only use artificial baits. Luckily, conditions were just right and a large school of bass came into the shallows.
Steve and Taylor caught over 60 Florida largemouth bass on this fishing trip. The action was fast and furious all trip long. Most of the bass weighed between 3-4 pounds. The biggest bass weighed in at over 6 pounds. Wow Factor Crank Baits put a majority of bass in the boat. These crankbaits were designed by Captain Mark and will be on the market soon. The other bass were caught on Bass Assassin Soft Plastics.
Steve and Taylor, as always, had a fantastic day fishing with Captain Mark. They are looking forward to their next adventure on the water.
The same day, Captain Mark Rogers adventured out of Clewiston, FL. He had the pleasure of fishing with Rusty. Rusty was traveling from Minnesota looking to enjoy a day of bass fishing on Lake Okeechobee. Conditions were windy to start making the bait move around and the bass to follow. Wild caught live shiners were the most successful day of catching Florida largemouth bass while Clewiston Bass Fishing.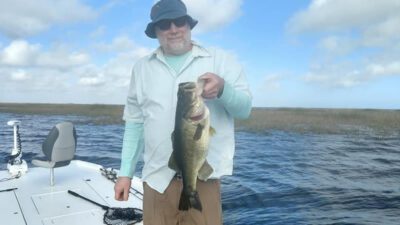 Rusty had a great time catching bass with Captain Mark. He put numerous bass in the boat weighing between 3-4 pounds. Also, Rusty topped off the day with a 6.5 pound Florida largemouth. This was his personal best and was beyond excited to catch it.
Captain Mark is looking forward to Rusty coming back to Lake Okeechobee for more action!
Just shortly after this fishing trip, Captain Brian Brown adventured out on Lake Okeechobee out of Belle Glade, FL. The southeast corner of the Big O produced big time on this fishing trip. Captain Brian had the pleasure of fishing with Mason on an afternoon fishing trip. Wild caught live bait were the preferred method for catching largemouth bass.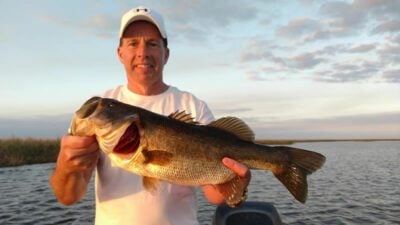 Conditions paired up for a fantastic day on the water. A light breeze with cloud cover made for a magical day on the water. Captain Brian took Mason to an area filled with Pennywort mats and caught several nice largemouth bass. After picking away at them, the big bass came out to play. Mason got what he was searching for with a beautiful female bass weighing in at 8 pounds. It was a BIG green panda that put the icing on the cake for a fun afternoon.
Mason will be back in the near future for more big bass action!
Lake Okeechobee is coming alive and now is the time to come explore all that it has to offer. If you are looking for big bass, come catch your today. Our local experts will work endlessly to get you on the fish of your dreams. We look forward to seeing you on the water next time!
Come Visit Florida and Catch Yours Today..
If you enjoyed this post about Okeechobee Fishing, you might also enjoy this fishing report from the same area.
Don't forget to follow us on Facebook, YouTube, Twitter and Instagram.